A Big King Year? It Just Might be in Saugatuck This Year!
We have been catching big fish this year all the way up the coastline.
I know many people try to play camera angle games, but this one wasn't just the camera angle, it was a 25′ King that is starting to look an average fish this year.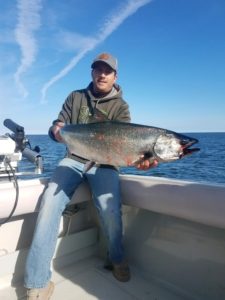 Oh, and they only get bigger as the spring turns to summer and fall. This just might be a year you don't want to miss when it comes to size of fish on Lake Michigan.
Please follow and like us: