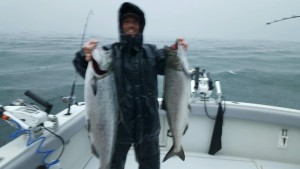 Half Day Charter (Approximately 5 hours)
Morning – 6am-11am
Afternoon – 3pm-8pm (times in evening adjusted for seasonal sundown)
1-4 people – $800
5-6 people – $100 per additional person
Full Day (6am -1pm)
1-4 people – $1000
5-6 people – $100 per additional person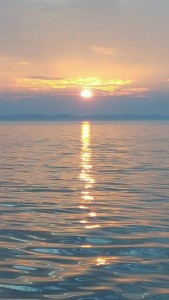 All Day
Leave the dock at 6 am and back after dark. This trip is for the dedicated group that wants to fish from daylight 'til dark. We will treat you like royalty on this trip with morning fishing, a prepared and provided lunch on the boat as we take a break from fishing at mid-day, then set back up for the night fishing push as you watch the sunset over beautiful Lake Michigan. Be sure to have your cameras ready for their special view. We do need a little notice to get this one booked so we can have the food and our best first mate on board to serve your party, so while we can't book this one the day before, it is our pleasure to provide this option. Feel free to ask the captain for any special foods that you might like to be included in the lunch. $2,1000 for up to 6 people.

*A 50% deposit is due at the time of booking.
While we give you a time that we will be back to the dock, our goal is always to get you home early with a maximum allowable limit catch as quickly as possible to keep you on your toes through the entire fishing trip! When the DNR says we have our max, we head back to the dock.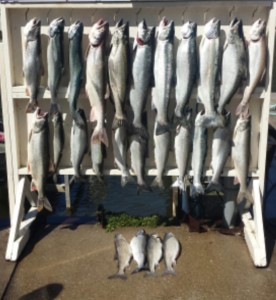 In Field Seminars in Owner's Boat:
A customized trip with Captain Eric Schippa who come with you on your own boat to fish, help you set up your gear, evaluate how your boat is rigged, and help you find ways to increase your productivity as a private fisherman.
Years of experience as a charter captain can be put to work on your own boat.
It's great to go out with a captain and catch fish on their boat, but it can be even more rewarding if you have your own boat to increase your skills and learn how to do it consistently.
A half day charter on your boat (morning or afternoon) can be scheduled for $500.00.
River Fishing: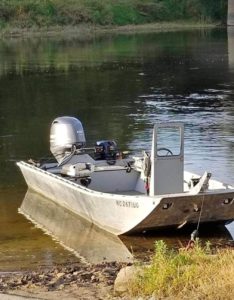 Fishing in West Michigan isn't just about Lake Michigan, there are highly productive river fishing options also for things like Walleye, Steelhead, Catfish, Bass, and Pike. West Michigan Charter Fishing also operates a 16′ boat capable of fishing rivers and inland waters.
Call us today for a custom trip for any of these unique West Michigan fishing opportunities.
Half Day Charter (Approximately 5 hours) –
Morning – Daylight until 12:30pm (Times vary due to seasonal lighting)
Afternoon – 1pm-Dark
1-2 people – $450
3 people – $550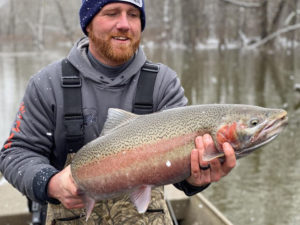 ———————————————————-
Need your fishing license?
You can get it online and just having a digital copy of it in your email or on your phone is good enough for the day or season of fishing.

———————————————————-
*Always wanted to fish a tournament? Tournament charters are available upon request.
**Times vary slightly based on the time of the season and daylight hours and are based on leaving the dock to return to the dock time. Custom charters are also available.
Note: Weather cancellations are determined by the captain. While we will do everything we can to get you on the lake on the day you want to go, we can't control the weather and there are times when it is not safe or productive to go fishing. Typically if waves heights exceed 6 feet we will strongly encourage you to re-book your trip. If waves are greater than 8 feet we will not go fishing, ever. The captain is familiar with local weather and lake conditions and will be in touch prior to the trip if there are any concerns about forecasted or presently existing conditions. If the trip is unable to go, we are more than willing to re-book your trip to a better day or a full refund is available if we can't make a day work with your schedule.
If you have already booked a trip and need to cancel it, we will do our best to work with you to re-book your trip. Cancellation made 10 days prior to the scheduled trip will either be re-booked or issued a full refund. A cancellation with less than 10 days notice, will result in paying 50% of the original charter fee.