The Blue Chip is a 31′ Tiara Open that offers a large heated cockpit and cabin as well as a bathroom for your comfort. The bathroom is a private, roomy, stand-up full bathroom.
Our vessel is equipped with the latest and greatest in electronics and fishing equipment to find the fish and for safe navigation. The boat is inspected by the Michigan DNR and is a licensed charter boar.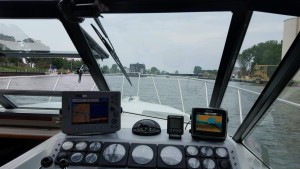 The 31′ Tiara is one of the most popular boats among great lakes fisherman for the deck space and ability to be set up effectively for fishing. It can safely handle any reasonable weather a prudent fisherman would want to go out in.
All the fishing equipment is already on board including downriggers, diver rigs, copper lines, and lead core to make sure any time the fish are biting we have the right equipment available. We are equipped to fish with downriggers, copper lines, lead core lines, divers, planer boards, and heck, if needed, a line and a bobber. We won't ever not be able to catch fish because we don't have the correct equipment.