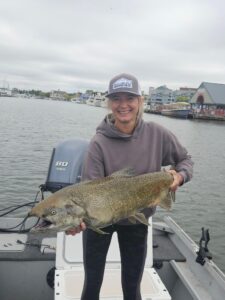 I couldn't help but just get out today with my dear wife, who just happens to be pretty darn good at fishing also.
With fish in the river right now, we didn't have to go very far or take the big boat. A little trolling up and down the river was just the relationship-building couples time we wanted. More importantly, we left the kids home for a bit and just get out for a little fun.
An overcast day that was pretty darn warm, it does feel like fall is in the air. Even a few trees are starting to turn colors around West Michigan. As much as we hate to admit it, it won't be too much longer until the boats get put away for the Winter and we start doing the work to get it all set again for next spring.
We are already booking dates starting next spring and summer, so if you know you are going to be in the area and want to get on Lake Michigan for some fishing, reach out over the Winter and we can lock in some times for you.
In the meantime, I'm off to go clean my wife fish from today.
Please follow and like us: