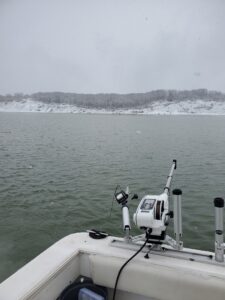 It's early in the season, but that doesn't mean we aren't out there starting to figure the fish out.
Yesterday we fished from South Haven south along the beach. While fishing was fairly slow, we did manage to put some coho in the box. The fished seemed to be in the 30 to 40 foe range. Riggers down 20 and 25 ft each went and flat lines with thin fins also took bites. As the temp warms up fishing should get better.
It's Michigan, so fishing in the snow isn't anything we haven't done before. But we sure are hoping for much better weather very soon to take customers out!
Please follow and like us: